Image Source: http://www.eatingwa.com.au
This week we are having a look at the funny things that happen in restaurants. First up we have a one minute
classic Faulty Towers video all about coming the raw prawn:
There are all sorts of thingss that can happen to food in Restaurants, with serious ramifications to
the patron's long term health: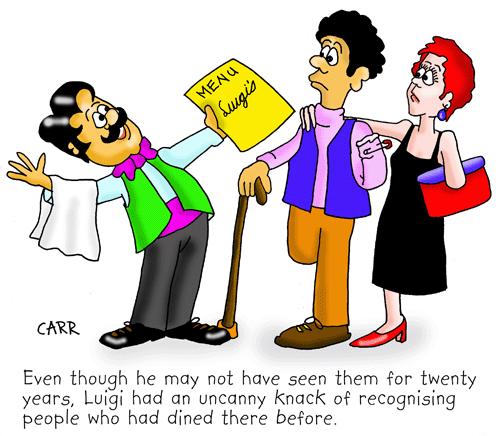 Here is another classic Faulty Towers restaurant foul up:
Had the Rat been "Road Kill", it may have been a whole different story.
Here is a wonderful "Road Kill Grill" menu from the good old U.S. of A.
It features all sorts of furry friend dishes, from basic drive-thru to exotic
cordon bleu :
There are also not just funny menus, but restaurants all around the world with very funny names:
Here is a website of 35 of the worst restaurant names in the world. Use the scroll bars to work down through the pictures.
Here at Passy World we have decided to declare March as "Mr Bean" month.
So here is a classic episode of Mr B celebrating his birthday at a very fine restaurant:
Then of course, there are always those prank phone calls that people make to restaurants. Most of them are far
too racist and obscene to put onto this site. However, this Howard Stern prank is hopefully not too "out of bounds":
That's it for this week's "Funny", if you get hungry for more laughs, be sure to visit us next Friday.
HERE AT PASSY WORLD, WE ARE STILL HUNGRY FOR PEOPLE TO DO OUR ONE CLICK SURVEY AT THE TOP RIGHT HAND CORNER OF THIS WEB PAGE. JUST CLICK ONE OPTION IN, AND THEN CLICK THE "VOTE" BUTTON.
Enjoy,
Big Passy Wasabi