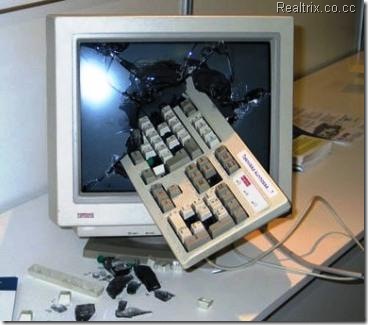 Image Source: http://www.myps3.com.au
Let's face it, computers can be pretty damn annoying at times, and for some people
this can be the straw that breaks the camel's back. (and everything else).
So is it funny to laugh at other people's misfortunes?
Well check out this blog post, see if you giggle, and you be the judge.
Hmmm... bit of a problem printing. A simple minimal fuss solution:
Use the photocopier instead!
I guess if you'd missed out on lunch because your computer gave you problems,
then you'd naturally be taking a bite out of your laptop:

Image Source: http://www.cliconline.co.uk
So maybe just get off the computer for a while, and organise the mail run:

Sometimes it is just so hard to get yourself plugged into the Matrix:
Image Source: http://www.officerage.com
Or to even get yourself plugged into the whole idea of another boring day at the office:


And here is another guy with some deeply troublesome anger management issues:
They've even made computer rage coffee mugs:
Image Source: http://www.coffeemugheaven.com
Looks like a couple of guys in this office have overdone the caffeine and everything else.
Check out what happens about 40 seconds into the video:
Perhaps a weekend away with the guys getting in touch with your deepest inner feelings could help a lot with computer
anger management:
Image Source: http://faculty-staff.ou.edu

Passy World advises to avoid computer rage as follows:
Nip the problem in the bud by seeking out help for your computer problems as
soon as they surface. Remember, expert help is always not too far away.
Image Source: http://www.optimize-your-pc.com
FINALLY, DON'T FORGET TO DO OUR ONE CLICK SURVEY AT THE TOP RIGHT HAND CORNER OF THIS WEB PAGE. JUST CLICK ONE OPTION IN, AND THEN CLICK THE "VOTE" BUTTON.
Enjoy,
Big Passy Wasabi