Image Source: http://www.gulliverstravel.co.uk
Here at Passy World we are not really cricket fans at all. We certainly won't be spending our time in front of the TV watching the games. We would much rather be at the beach than at the cricket during our upcoming hot Australian summer.
In fact Cricket can get so boring, that even the players sometimes nod off and need to wake each other up.
Image Source: http://menscrunch.com
Looks like the whole team is desperately needing a quiet nap at this match.
Image Source: http://cache.daylife.com
This match might be so boring that the person sitting behind this inconsiderate lady may not be missing that much at all.
Image Source: http://1.bp.blogspot.com
What the game of cricket definitely needs is some exciting entertainment.
We are sure that random on-field guests could wake any sleeping viewer during particularly long and boring test matches.
Image Source: http://4.bp.blogspot.com
Let's take a look at this compilation of great funny moments in cricket.
Cricket Jokes
A friend asked George, "Tell me, is your daughter's fiancée a good catch?"
- "Good catch?" answered George. "Dammit, he's the best fielder we've got in the side!"
The cricketer was proud of his progress as a batsman and invited his mother-in-law along to watch him play, hoping to impress her.
At the crease, he turned to the wicket-keeper and said 'I'm anxious to do well and really hit this ball. That's my wife's mother over there.'
'Don't be silly,' said the wicket-keeper. 'You'll never hit her from this far away.
George spent every Sunday playing cricket. It finally got too much for his wife , who exploded, 'Cricket! All you ever think about is cricket! I think I'd drop dead if you stayed home on Sunday!'
'Now then, dear,' said George. 'It's no use trying to bribe me.'
An expectant father rang the hospital to see how his wife was getting on. By mistake he dialed the number for Lord's.
"How's it going?" he asked.
"Fine," came the answer, "We've got two out already and hope to have the rest out before lunch. The last one was a duck.
Two onlookers were talking during the village cricket match.
'The batsman was late for the first delivery,' observed one.
'He always is,' said the other. 'That's our milkman.'
Not sure why all the guys need to be standing so close to each other in the field set up below. Maybe they are sharing a single brain between them?
Image Source: http://www.cricbolly.com
Lack of intelligence is a common problem during cricket matches. Here a veteran umpire is trying to explain what the round red thingy is used for.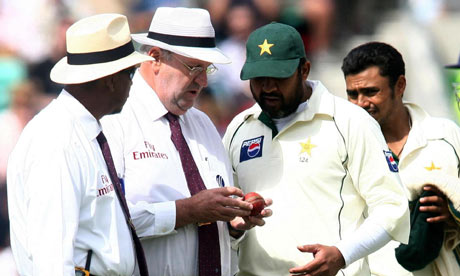 Image Source: http://static.guim.co.uk
This guy looks like he should be playing in a Jimi Hendrix tribute band, rather than spending a whole day on the grass.
Image Source: http://www.smh.com.au
Perhaps the game needs smartening up using modern technology like this.
Image Source: http://1.bp.blogspot.com
And some of the stupidity in cricket extends far beyond the players.
Here is a video made by the cricket commentators. These guys aren't exactly the sharpest knives in the draw at the best of times.
Lucky there are always plenty of officials on hand at international matches to keep things on track.
Image Source: http://farm4.static.flickr.com
The officials are certainly very thorough in their inspections of all participants.
Image Source: http://2.bp.blogspot.com
That's it for another week for us. Have a great weekend and watch out for those swinging spin bowlers.
Enjoy,
Big Passy Wasabi